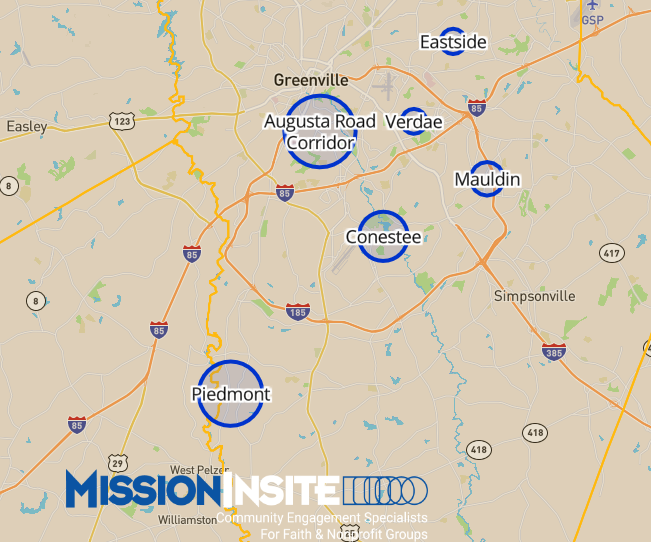 Priority church planting locations are determined primarily through looking at population growth, shifts, and trends, as well as gaps in church locations.
Please note the priority church planting locations listed below do not include language congregations or revitalizations/replants.
Augusta Road Corridor
The City of Greenville's population growth has not slowed down.  We do not have an active presence in that area.
Eastside
Eastside population continues to grow.  It is interesting to look at our church map and see that there is a noticeable GBA church gap in the eastside area.
Conestee
Not only is the Conestee area experiencing current growth, but it is projected to further increase in the future.  Again, there is a noticeable GBA church gap in this area.
Mauldin
With hundreds of new homes coming to Mauldin, and only 2 GBA churches in the city, Maudlin must have additional gospel access points.
Piedmont
New neighborhoods are being built throughout the Piedmont area, especially to the west and north of Woodmont High School.  This area is already targeted by developers for future growth as well.  Additional gospel access points are necessary to reach this changing area.
Verdae
Since the early days of the Verdae development, we have felt the need for a church in this community.  The community has continued to grow, and we still need a vital church in that immediate area.